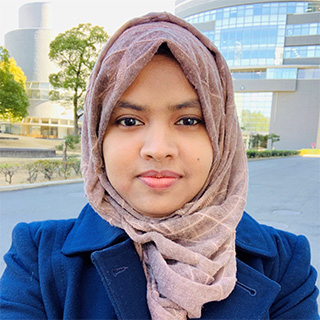 Zohora Khatun
PhD student-2st year ,Dept. of Neurology,
Aichi Medical University
zohora.khatun.043@mail.aichi-med-u.ac.jp
zohorakhatun_cu@yahoo.com
This is Zohora Khatun. I completed my BSc and MS degree from the Department of Biochemistry and Molecular Biology, University of Chittagong, Bangladesh, and started my research carrier in January 2013 at Laboratory of Eukaryotic Gene Expression and Function, BMB, CU. At EuGEF I joined in number of projects. Initially, I focused on the mechanism of inflammation and immune alteration during arsenicosis; later, on signaling molecules in cancer progression under the supervision of Prof. Dr. ASM Noman to identify novel diagnostic, prognostic and therapeutic approaches for cancer patients. Now, I am pursuing PhD at Internal Medicine (Neuroscience), Aichi Medical University, Japan under the supervision of Prof. Dr. Yohei Okada to establish a disease model for Motor Neuron Disease specifically SBMA through induced pluripotent stem cell (iPSC) culture.
Besides lab, I am interested in reading short stories, poetry and news of intellectual creativity, in the near future I want to involve myself in online writing, etc. I love to spend my time with research to participate in discoveries of biological sciences. I enjoy my spare-time with family and friends.
Brief personal record:
MEXT awardee of 2019 under Japanese government scholarship
NST Fellowship for research in 2014 from Bangladesh Ministry of Science and Technology
Selected publications:
Noman AS, Uddin M, Rahman MZ, Nayeem MJ, Alam SS, Khatun Z, Wahiduzzaman M, Sultana A, Rahman ML, Ali MY, Barua D, Ahmed I, Islam MS, Aboussekhra A, Yeger H, Farhat WA, Islam SS. Overexpression of sonic hedgehog in the triple negative breast cancer: clinicopathological characteristics of high burden breast cancer patients from Bangladesh. Sci Rep.2016;6:18830.
Noman AS, Dilruba S, Mohanto NC, Rahman L, Khatun Z, Riad W, Al Mamun A, Alam S, Aktar S, Chowdhury S, Saud ZA, Rahman Z, Hossain K, Haque A. Arsenic-induced Histological Alterations in Various Organs of Mice. J Cytol Histol.2015;6:323.